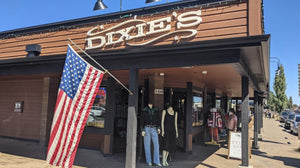 Authentic Western Merchandise
Founded in 2015, Dixie's caters to a blend of Western and outdoor lifestyles. We specialize in unique, high-quality apparel, footwear, accessories, and home goods. There is a diverse selection for men, women, and kids. We strive for quality at a fair price.
Dixie's makes an effort to stock domestic and locally-made goods and support local artists. We are the exclusive, local partner for several local Oregon brands. Pendleton wool blankets, custom hand-made boot jacks, Western photography, and more.
Our friendly and courteous staff will work with you to find the perfect fit for the button up or snap shirt, jacket, hat, belt, boots, jewelry, purse, etc. You'll feel like you've stepped back in time to the Wild West when visiting Dixie's, fitting exactly to the town of Sisters' personality.
Come visit today so you can see exactly what you are missing in your wardrobe and home. You'll find authentic, high-quality goods hand picked for you!
Look no further when you are wanting to build your wardrobe or decorate your home with authentic Western merchandise.
Our motto is Out. West. Living...Outdoor, Western, Lifestyle